Now that President Zhou Qiang's report has been well received by National People's Court delegates, one of the issues to which the Supreme People's Court (SPC) has turned its attention is big data.  Recently, the SPC released a report with "big data." The charts below are from two versions of that report.  The press release accompanying this report indicated that the SPC will release more data more periodically.The SPC has traditionally been very stingy with the release of data, and certain data that interest persons outside the court system are classified as state secrets. SPC personnel have also discussed their rationale for reviewing and releasing more data, but that will be addressed later.
Because of the large amount of data in the report, it will be reviewed in several blogposts.
Chinese courts hear a huge number of civil cases
The pie chart sets out first instance cases in the courts, both the civilian and military courts.  There were 20% more first instance cases in the courts in 2015 than 2014, almost 11.5 million.  Almost 90% (88.6%) of them were civil/commercial cases, with slightly under 10% criminal cases (9.84%).  Less than 2% of cases were administrative cases.
Ten year trends
Trends over the last 10 years of cases resolved, by all courts, in units of 10,000.
Criminal cases
The courts accepted 1,126,748 first instance criminal cases, up 8.29%, and concluded 1,099,205 of them,up 7.45%, involving 1,232,695 defendants, up 4.06%。The preponderance of those cases were relatively minor crimes.  
As the pie chart below illustrates, sentences imposing five years and more in prison, death sentences or suspended death sentences were imposed on 115,464, accounting for 9.37% of those convicted. Close to half (43.96%) , or 541,913 were sentenced to prison terms of less than five years, while 45.12% (556,259)were either given suspended sentences or control, or other minor punishments.  A tiny percentage were exempted from criminal punishment (18,020 persons), accounting for 1.46%, while a miniscule number (1039) (0.08%)were declared not guilty.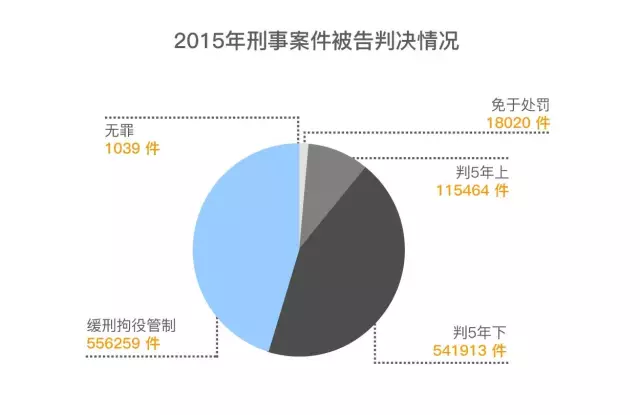 The two pie charts below set out out the criminal cases by type, omitting the more sensitive types and showing a drop in most types of crimes, with the exception of fraud and theft/robbery.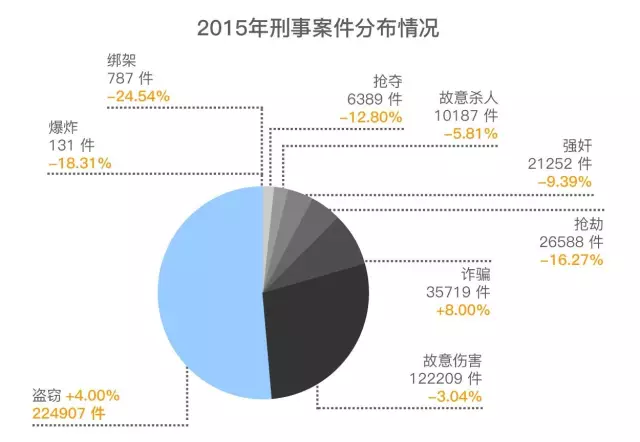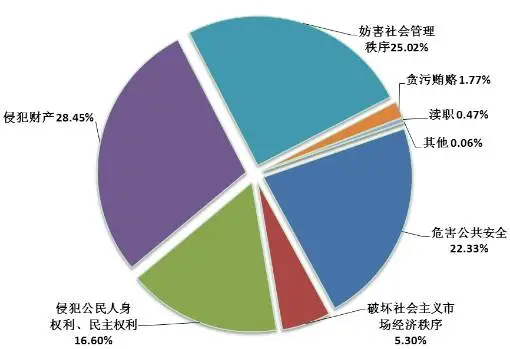 Violent crimes
The criminal courts accepted 10,187 cases involving violent crimes, down 5.81%
Intentional assaults: 122,209 cases, down 3.04%;
Rapes: 21, 252 cases, down 9.39%;
Kidnapping: 787%, down 24.54%;
Explosions: 131 cases, down 18.13%
Food, sex, drugs, and gambling crimes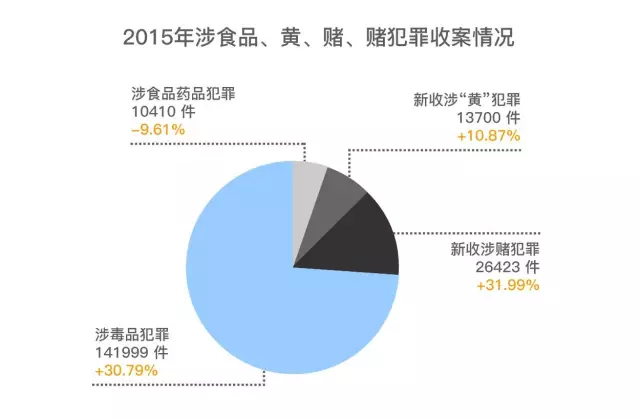 Food and drug safety crimes are always a concern of the government, but enforcement activity or publicity about harsh criminal punishment may have had a positive effect on compliance.  New food and drug safety cases totaled 10,410件 down almost 10%, of which about 3000 involved the production and sale of poisonous or harmful food products, down almost 35%, while there were about 2300 cases of the production and sale of foods that failed safety standards, down about 2%.  The courts accepted less than 250 cases involving the illegal sale of personal information, down about 15%. Food safety issues in China affect people all over the world, as many articles of posted out.
It was clear from last year's SPC's guidance on drugs cases, discussed in this earlier blogpost, as well as articles in the press and reports by think tanks, that (illegal) drugs are an increasing problem.  The statistics are an indication of that: drugs cases accepted by the courts have risen 30.79% to 141,999件,Of those, almost 93,000 (92982) cases involved trafficking, sale, transport, and manufacturing of drugs, up 15.61%,illegal possession of drugs, 11104 cases, up 26.9%, providing premises for taking drugs, 36,530 cases, up 101.32%. These, at least the ones involving manufacturing, transport, and sale of drugs are relevant to the world outside of China, as the cheap production of illegal drugs has also moved to China, as articles in the Financial Times (China-made $5 insanity drug goes global) and the European press indicate.
The criminal courts accepted 26423  gambling cases, an increase of almost 32%, including about 19,000 cases of operating gambling premises, up 35%,
The criminal courts accepted 13,700 cases involving the sex trade, an increase of almost 11%, of which 11, 682 cases involved organizing prostitution businesses, providing premises, compelling women to become prostitutes, and acting as a pimp or madam, an increase of 7.4%.  Prostitution offenses themselves are generally punished outside of the courts.
Financial crimes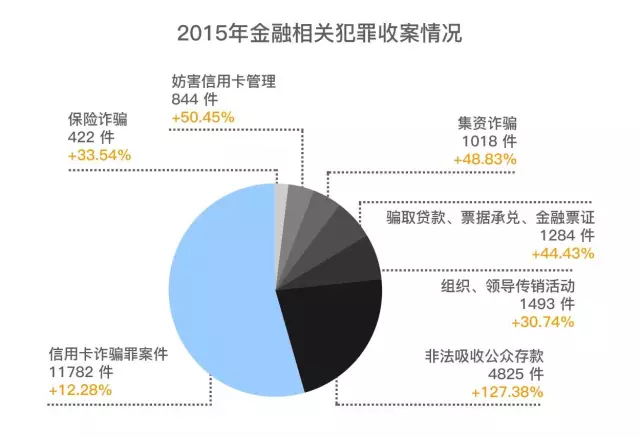 The pie chart above sets out newly accepted financial crimes:
4825 cases of illegal fundraising,  up 127% over last  year.  This crime is very much on the government agenda.  There were a much smaller number of credit card crimes–844 cases, up by almost 50%, illegal fraudulent fund raising, 1018 cases, up almost 49%, with fraud relating to loans, financial paper, financial instruments, 1284 cases, up 44%, insurance fraud, 422 cases, up 33%, credit card fraud, almost 11,800, up 12%, pyramid scheme cases, almost 1500, up by almost 31%.
The criminal courts accepted about 26,600 robbery cases, down about 16%, theft, 224,907 cases, up 4%, while fraud cases were up 8%.  (offenses subject to confirmation)
SPC's big data
The other major issue for anyone outside the Chinese court system, Chinese or foreign, reviewing SPC data is that frequently changes in classification and criteria make it difficult to understand and analyze. Or is the thinking that "a foolish consistency is the hobgoblin of little minds"?